KS4 (GCSE) Results 2023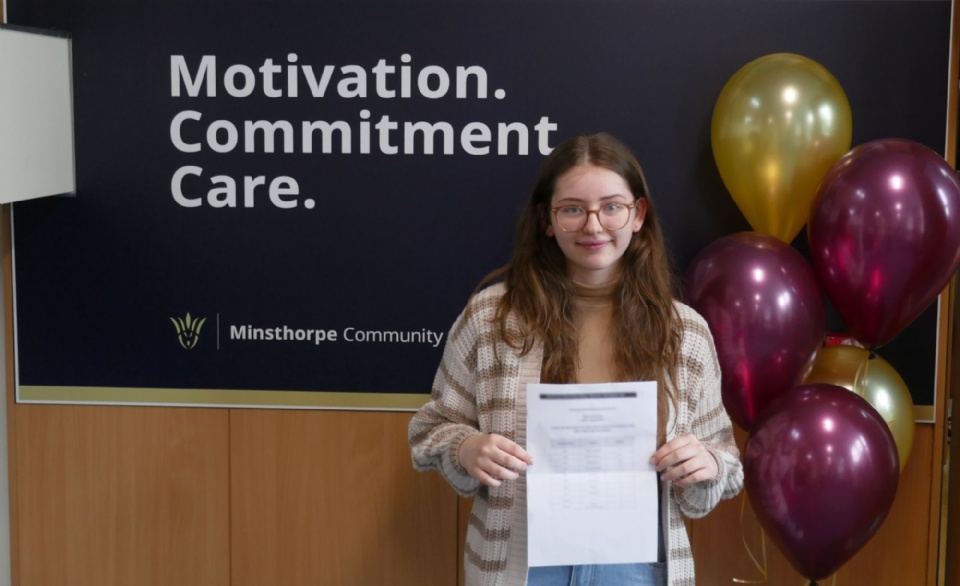 Minsthorpe Community College have been celebrating with students and their families due to the excellent results achieved across a wide range of courses. Due to commitment to their studies and a motivation to excel, students have made themselves, their parents and their teachers very proud. The results achieved will unlock doors for students enabling them to access courses and opportunities which will lead them to further success. The College would particularly like to celebrate their attainment score which further demonstrates the hard work of students and staff.
The GCSE and vocational achievements results will make a significant impact on the life chances of our students. The Joint Principals Mr Gilmore and Mrs Merritt commented;
These young people have faced huge challenges during their secondary education and we could not feel more proud of their achievements today. We are in no doubt that this is a massive team effort and we would like to thank the students' parents/carers for their unfailing support, our committed staff, who go over and above for the students in their care, and the governors for their commitment to the College.
The College is particularly proud of the Motivation, Commitment and Care which all students have demonstrated, however there were numerous individual standout student successes. Alexia McMichael and Ruby Moodie achieved outstanding outcomes, both achieving nine 9-7 grades. Freya Blacker, Megan Sinclair and Kamil Wilczak not only achieved strong outcomes but demonstrated fantastic progress throughout their time at Minsthorpe Community College due to their commitment to their learning. A particular special mention goes to Neve Simmons who has achieved eight grade 9s and one Distinction*, as well as attaining a grade A in a Level 3 Additional Maths qualification. Furthermore, Georgii Amelichev arrived at Minsthorpe in May 2022 as a refugee from Ukraine. Despite the numerous challenges he encountered, we are exceptionally proud that Georgii has achieved remarkable outcomes, including five 9-7 grades and an 8 in both English Language and Mathematics.
We are delighted that lots of our students are now returning to Minsthorpe's Post 16 to continue their learning journey and would like to wish those who have chosen other paths into apprenticeships or employment the very best for the future.