About Us
We are an inclusive Post 16 provider and cater for learners at all levels and have an established reputation for very strong exam performance, a passion for teaching and learning and an unwavering focus on helping every student achieve their best possible goals.
Minsthorpe Post 16 is committed to delivering high quality teaching which provides challenges and opportunities for individual learners. Students have the opportunity to be creative, innovative and enterprising, whilst benefiting from strong care, support and guidance. The Post 16 team continues to provide our students with support and motivation to raise their aspirations, succeed in learning and position themselves for a better future.
We have a well-established ethos of care and support. Our students and staff enjoy working together as 'Team Minsthorpe' and everyone is committed to 'Learning and Behaving the Minsthorpe Way', because we know this will deliver the best education for the young people. We cannot achieve this alone and we firmly believe in a strong partnership between the college and everyone within our community and express this in our College vision:
Minsthorpe Community College: A place where everyone plays a part in strengthening our learning community through motivation, commitment and care.
Why choose Minsthorpe Post 16
Excellent Exam results
High Pass rates at Level 3 means that students get the best opportunity to progress onto their chosen pathway of University, Apprenticeship or Employment
Developing Independent Students
Students are treated as Young Adults and are trusted to make the best of the opportunities and freedoms given to them. Of course, there is support when it is needed.
Pastoral and Careers Support
The Post 16 Team works with all students on an individual basis and provides bespoke interventions to ensure the students are supported. Regardless of their chosen route, the careers guidance that Post 16 students receive ensures that students progress onto pathways that allow them to be successful
Post 16 Facilities
Post 16 students have their own block with a study centre / computer room and a common room, as well as break out rooms across College. This allows students to not only study, but also relax during their free periods.
The Courses
The curriculum has been designed to offer students of all abilities and all interests an opportunity to gain the qualifications they need.
Developing Students Outside of Lessons
Students get fantastic experiences during Enrichment time, from high quality external speakers to trips and team building experiences. There is also the chance to represent the college as part of the Football Academy and the Post 16 Student Leadership Team.
Please get in touch via enquiries@minsthorpe.cc , should you have any further questions or to speak directly to our Associate Assistant Principal (Director of Post 16), Mr Lloyd.
Wellbeing Curriculum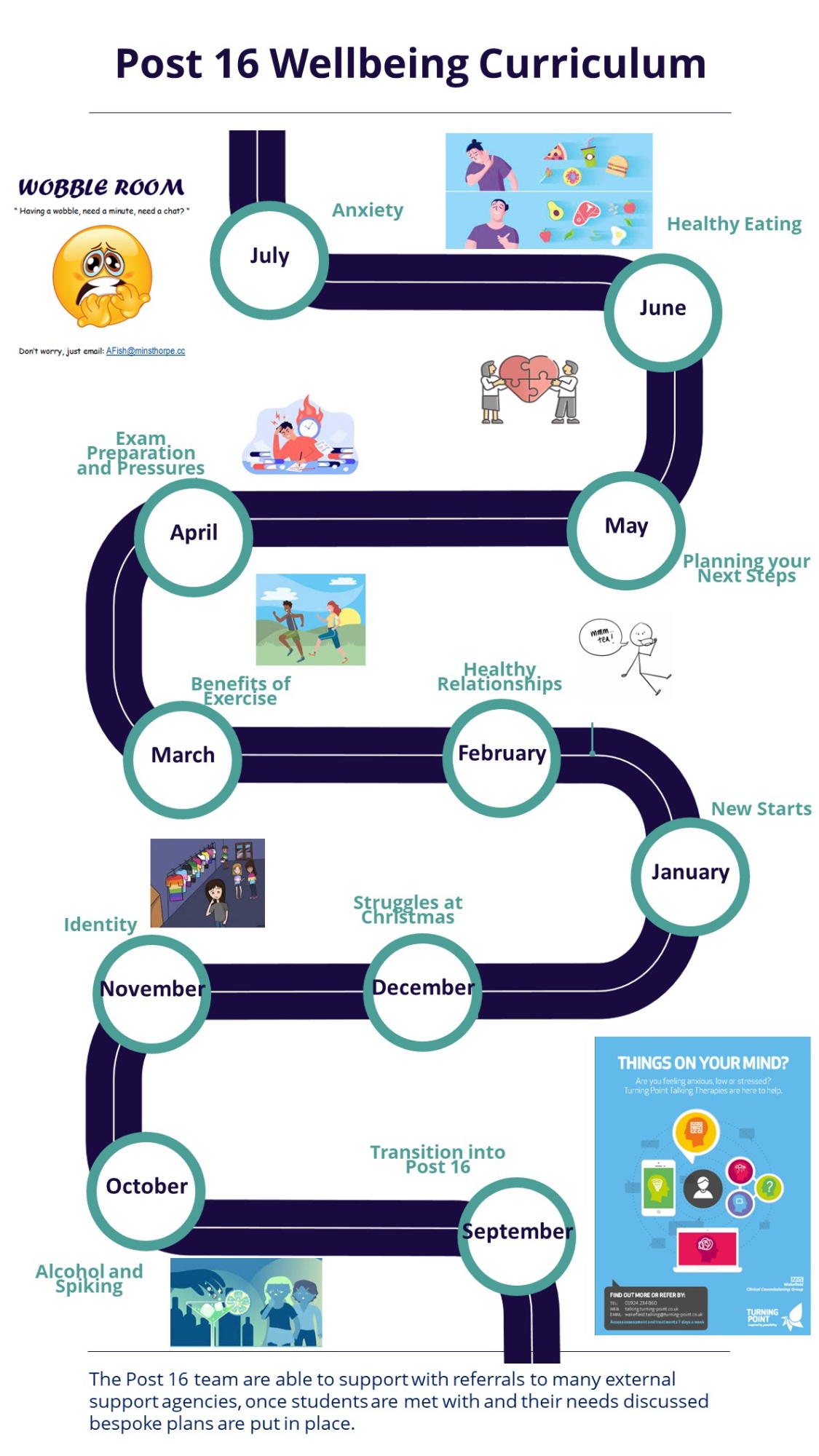 What Our Students Say
"I chose to stay on at Minsthorpe as it meant that I was able to have time for both school and work. It took away the stress of learning my way around a new site and interacting with new teachers. I knew what would be expected of me and I knew that I would still be able to achieve the best grades without having school take over and restrict my freedom. I am able to come to and leave school freely throughout the day due its proximity to home."
"After attending a different college for the first year I found that it was significantly different than a sixth form was even advertised, and the travel was too much. Minsthorpe teachers make sure you understand everything clearly before moving on with the topic and it's local so more accessible and a better experience overall."
"I chose Minsthorpe as it was easy for commuting and I had good relationships with teachers there"
"I came back because it was a place I was comfortable in, it is local, only a short drive which complemented the fact I passed my driving test allowing me to get more experience driving. It is a place where I know the routine allowing me to seamlessly adjust after the summer break".
"The reason I chose to come to Minsthorpe to do A-Levels was because the college was the closest to the village I live and has the most flexible timetable out of all the ones I looked at. It is also one of the only colleges you can go to around here and be back before 5pm everyday with long travel times."
Are you interested in joining a Post 16 where we are dedicated to your future?
For more information click the link to view the prospectus.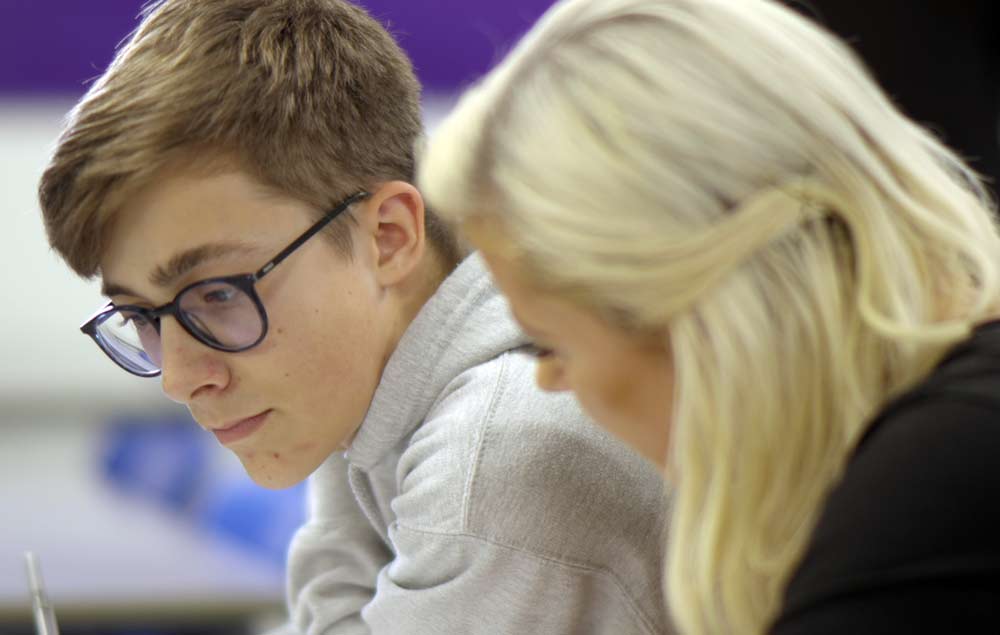 Double Click To Change The Link