Key information
Aims
At Minsthorpe we aim to support and develop young people onto a pathway that will provide them with success and happiness in the future. Our wide range of courses mean that learners of all levels and interests have a fantastic opportunity to succeed. The Post 16 team strongly believe in working with its students to ensure that we achieve the best possible outcomes.
David Lloyd
Director of Post 16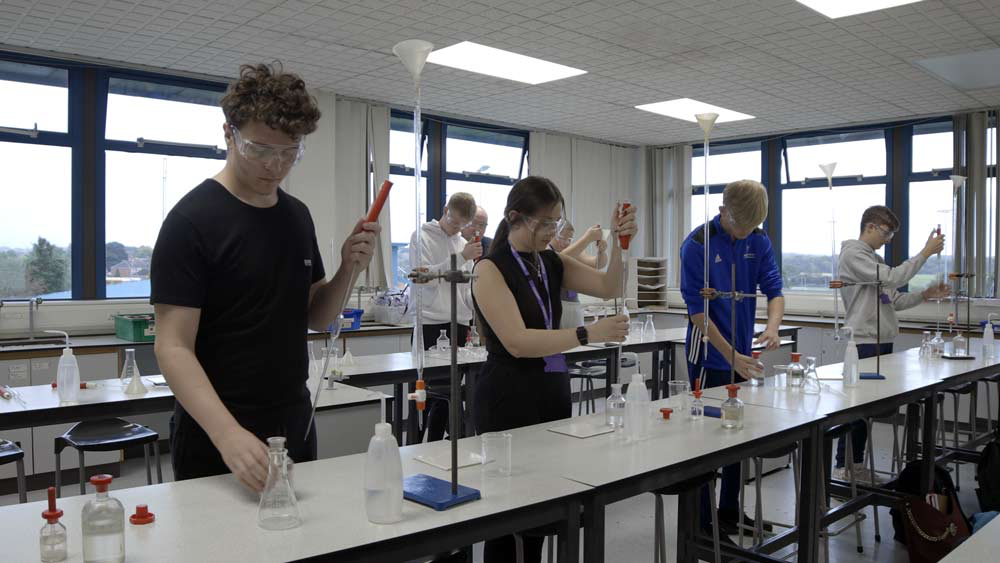 Open Evening
We will be holding our annual open evening in the Autumn Term on Thursday 26th October 2023, please keep checking the website for more information on this fantastic opportunity to visit our site and see our committed staff and students in action.
Minsthorpe Community College 16 to 19 Tuition Fund Statement of Intent
We have received some additional funding from the Government to support students who have been impacted by the National Lockdown. The 16-19 Tuition Fund, for the academic year 2021-2022, has helped us to increase support for students impacted by the Covid-19 pandemic and school closures. Students selected for this support were those who had not gained a Grade 4 in Maths and/or English GCSE. The funding will be used for targeted support classes and tuition.
The fund primarily will support GCSE and Functional Skills Level 1&2 English and Maths. If appropriate it may also be used to support any aim within the learner's programme of study.
Examples of the support offered will include:
Small group tuition (less than 5 students)
Specific topic support through designated teachers and teaching assistants.
Appropriate resources purchased for students to aid their teaching, learning and progress.
Academic skills support and development through mentoring.
Additional support in Vocational Subjects.
The impact of this additional tuition will be reviewed and adapted as the year progresses.
Learner Contract
This learning contract is an agreement to inform all stakeholders (students, parents/guardians and staff) involved in the student's education. It is essential that the student meets the contract responsibilities outlined below as this will enable them to achieve their full potential and maximise success in their chosen pathway.
It is the responsibility of all Post 16 students to:-
Check your college emails on a daily basis and respond to staff emails within 24 hours;
Contact College by email before 7.45am if absence is required due to illness or other legitimate unforeseen circumstances. This must be daily over the period of absence;
a) To gain entrance to the site, scan your lanyard card at the reception gate / Post 16 door;
b) Not allow visitors or younger students in or out;
Alert Post 16 team via email in advance for authorised planned absences;
Achieve 100% punctuality to all timetabled commitments;
Not take annual holidays during term time;
Meet all work deadlines and be fully committed to all chosen subjects and enrichment options;
Attend all compulsory sessions and any bespoke pastoral meetings;
Strive to be an independent learner taking full responsibility for your own progress and achievement;
Work co-operatively and respectfully with all members of staff throughout the college;
Accept the responsibility to act as an appropriate role model for students in years 7 to 11;
Attend (preferably with parents/guardians) both Parents Evenings to review and discuss progress and achievement;
Wear the Post 16 lanyard (visibly) at all times when on the college site;
Use the study centre and any other non-supervised study and social areas respectfully and appropriately;
Keep a sensible limit on the amount of time spent in part-time work (NB in term time you cannot be employed during school hours);
Be respectful of the local community regarding conduct, litter and noise;
Drive and park safely and responsibly on the college site and to only park in designated Post 16 area (Car Park outside the sports and fitness centre, you must register vehicle with the Year Office). No parking at any time in the staff and visitor car parks;
Ensure sensible, appropriate and legal use of mobile phones;
Adhere to the college E-safety policy (student acceptable use policy);
To dress appropriately for an educational setting at all times;
Use the Satchel One – Show my homework app / Microsoft Teams / Zoom as and when instructed by your teachers following the college policies;